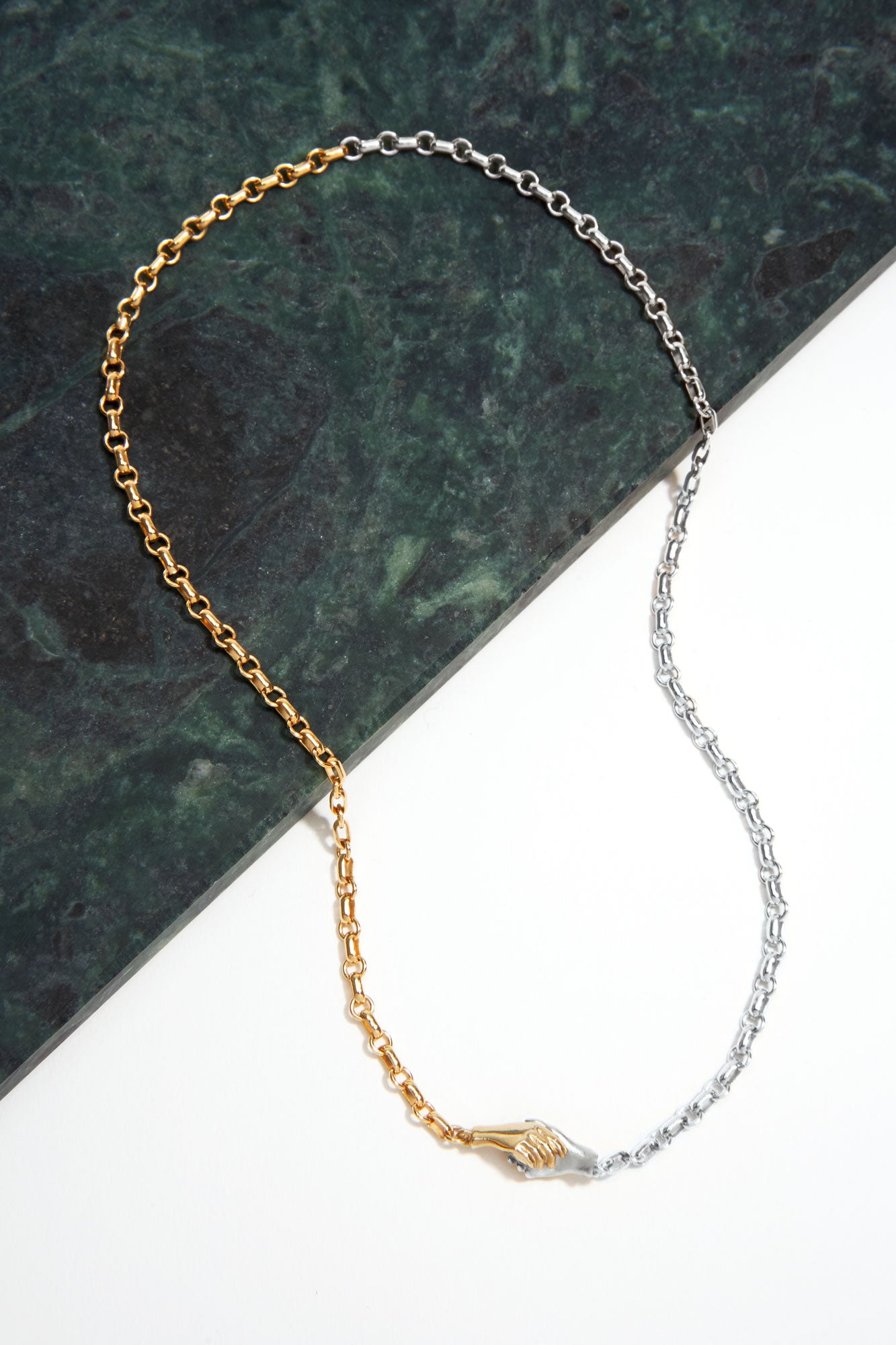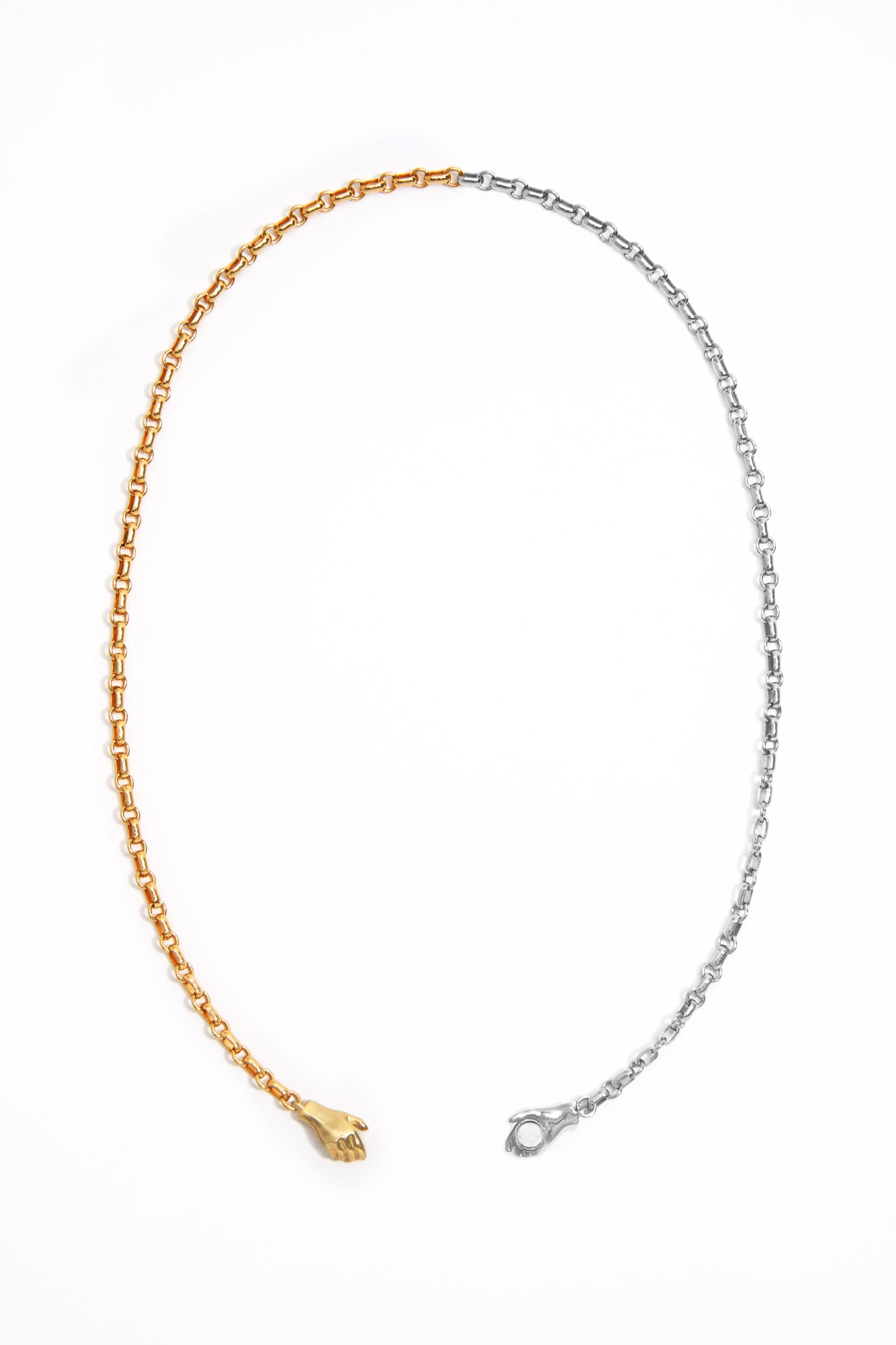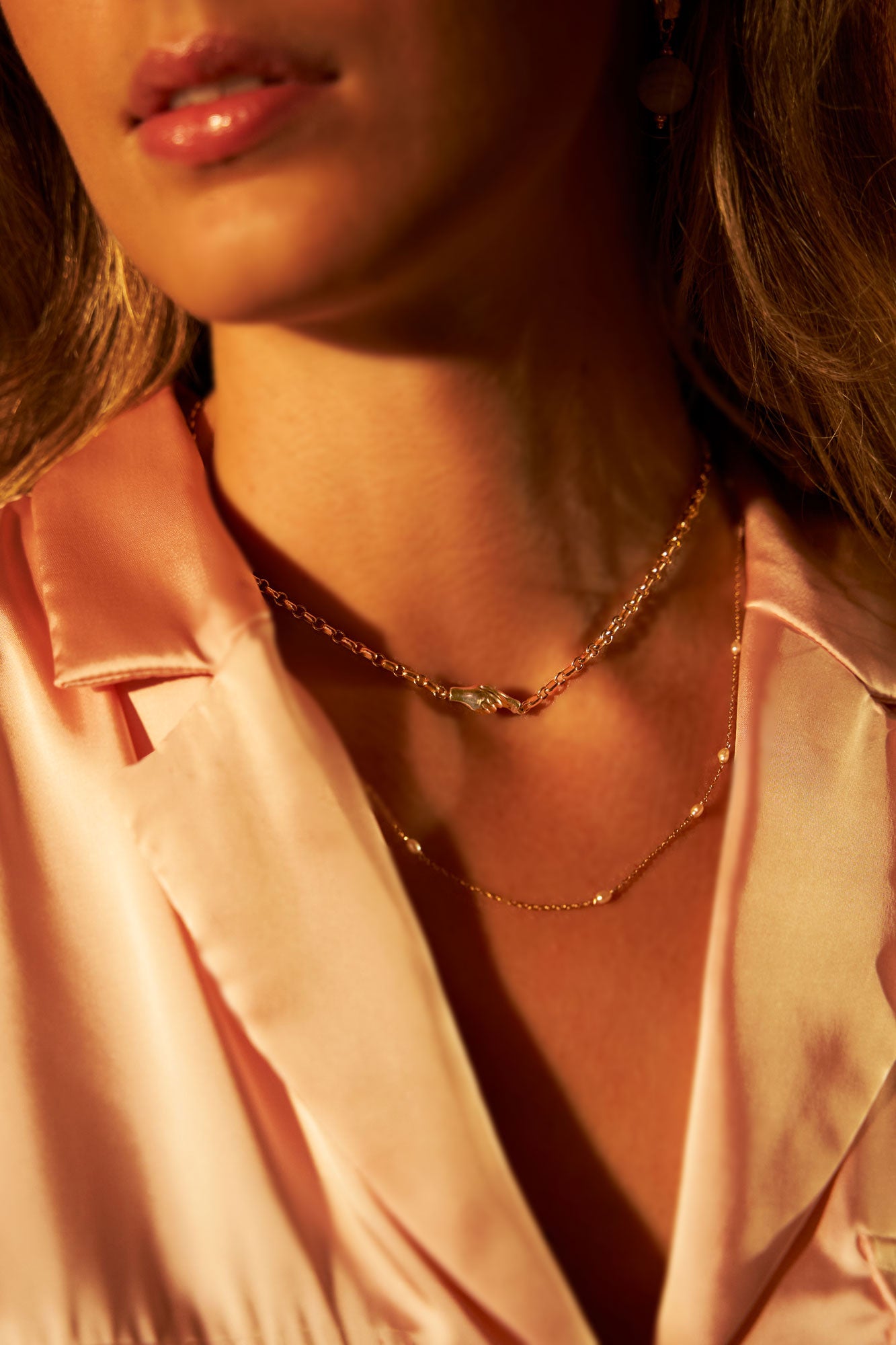 Fine Gentlewoman's Agreement® Necklace in Duet
Description

Details

Made to Order
A daintier version of our classic two-tone design in 14k yellow gold & .925 sterling silver, featuring a magnetic handshake clasp. This piece is designed for durability.
A symbol of the strength women have when we do things together. Elegant clasped hands seal the deal. This handshake necklace is a unique piece sure to become a wardrobe staple.
Designed to last a lifetime.
In an effort to operate sustainably and reduce waste, this piece is made to order and will take 2-3 weeks to create. All made to order pieces are final sale.
Free Shipping on orders over $100
---
---
Fine Gentlewoman's Agreement® Necklace in Duet
Care Information

How do I take care of it?

Wear with confidence every day, everywhere. 14k gold does not oxidize or discolor, but it is still a precious metal, so wear with care. 
Sterling silver naturally tarnishes over time. Be proactive in storing & and caring for the piece to prolong the lifespan of sterling silver. Tarnish can be removed with polishing cloth. 
 
HOW TO STORE:
When not being worn, store your piece in a safe & dry place to protect it from air oxidation, such as in your MLE pouch.
 
HOW TO CLEAN:
While 14k gold is made to last a lifetime, it does require gentle care and occasional polishing. To maintain the shine of your piece, wipe with a soft cloth. 
To remove tarnish, buff silver side gently with a silver polishing cloth.
If more thorough cleaning is required, gently clean it with a soft-bristled brush or cloth using warm water and detergent-free soap. Dry afterwards with a soft cloth. Do not use harsh or abrasive cleaners.

Do you have a warranty?

All MLE products are covered for 30 days from the date your order is delivered. This means that for 30 days from the date of delivery, we'll take care of your product if any damage to the material or workmanship occurs. Please contact us and we'll repair or replace the piece as a courtesy.

This guarantee does not cover lost items, scratches/dents that come with normal wear and tear, improper use or storage of your product, or any modification to your product done by a third party outside of MLE.

Items purchased through a third-party vendor (outside of madebymle.com) will not be covered under MLE's guarantee. Please reach out to the company the items were purchased from.
Shipping & Returns

Shipping Details

We offer free domestic ground shipping on all US orders over $100.

In an effort to operate sustainably and reduce waste, this piece is made to order and will take 2-3 weeks to create. All made to order pieces are final sale.

See Shipping Details

Order Tracking

Tracking numbers are automatically sent as soon as your order is packed. Please check your junk folder if you do not receive one 72hrs after placing your order.

Return Policy

As this piece is made to order, it is not eligible for returns.

Get in Touch

If you have any questions about your order, please contact us. Our customer service is available Monday through Friday from 9am - 6pm ET.
Sustainability

Conscious Materials

We are committed to creating quality products that are manufactured ethically and sustainably. Our pieces are traceable throughout the manufacturing supply chain and use ecofriendly, upcycled, or deadstock materials, or are made to order.

Ethical Labor

Our founder Emily Li Mandri created MLE as a commitment to honor old-world artisan manufacturing and the slow fashion movement. Our workers and production partners are all paid fairly and above minimum wage, in accordance with their experience and skill sets.

Giving Back

We donate a percent of our sales each year to non-profit organizations including Korean K9 Rescue and Planned Parenthood, to support our community and make the world a better place.